About me
Hi, I am Noah Taheij.
I am a 19-year-old cloud engineer with a passion for coding, photography, and cybersecurity. I discovered my interest in programming at a young age, starting his coding journey at the age of 8. Since then, I dedicated myself to mastering various programming languages, including Java, NodeJS, and Python.
Driven by my fascination with computer systems, my initial goal was to create my own software and applications. Over time, I developed a desire to contribute to existing projects and help others through my programming skills. This ambition has shaped his journey and made me the skilled and motivated individual I am today.
Currently pursuing a Bachelor's degree in ICT at Hogeschool Utrecht, my passion for Cloud engineering and automation led me to work as a Cloud Engineer on Azure Governance & Automation at the university. I continue to expand my knowledge and skills in the field while actively pursuing certifications, such as the PSM I and II Certification.
Photography
In addition to my technical pursuits, I have a deep passion for photography, with a particular focus on portrait and wildlife photography. Through my lens, I capture the essence and beauty of people and the natural world. Whether I am behind the computer screen coding or behind the camera capturing life's fleeting moments, my passion for the world shines through in every frame.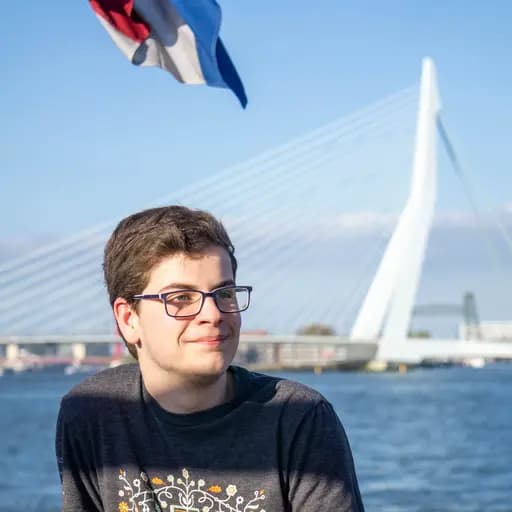 Work
What I am currently working on and for.
OffShore Events — Allrounder

Igniting the spirits of our adventurous guests, I unleash a torrent of adrenaline-fueled thrills as they embark on an extraordinary journey aboard one of our three lightning-fast RIB boats. With unwavering dedication to customer service and hospitality, I orchestrate a symphony of unforgettable experiences, ensuring that every moment is infused with awe-inspiring excitement and unparalleled care.

Hogeschool Utrecht

Collaborating with the Cloud Services team, we harness the power of Infrastructure as Code (Bicep) to unleash a storm of efficiency, deploying and commanding Cloud Governance with the speed and precision of a lightning strike through CI/CD. Additionally, we are on a mission to empower the brilliant minds of our university's staff, unveiling the boundless possibilities of cloud-as-a-service in a spectacular fashion.

Veroxo — Cloud Specialist

As a daring freelancer, I unleash my boundless creativity in the realm of Cloud projects. Armed with Azure's immense power, I engineer and bring to life captivating cloud solutions. Through Automation and Infrastructure as Code, I forge a seamless symphony of efficiency, revolutionizing the digital landscape with lightning-fast designs and implementations.

Racesquare — Race Marshall

Fueling the adrenaline-fueled frenzy of guests, I dive into the high-octane world of the F1 Racing Experience, propelling them to new heights of excitement. With unwavering enthusiasm, I become their fearless navigator, unravelling the secrets of our pulse-pounding simulators. But my role extends far beyond mere guidance - I am the master of entertainment, orchestrating a whirlwind of thrill and delight that leaves every guest breathless and hungry for more.

Lokalized — Full-Stack Developer

As a Full-Stack Developer at Lokalized, I embark on an exhilarating journey of crafting software solutions that tackle pressing social issues head-on.
Education
My current and previous education.
HU University of Applied Sciences Utrecht, BSc HBO-ICT (leerroute Open-ICT)

Working on my Bachelor's degree in ICT at Hogeschool Utrecht. I'm currently in my 2nd year and working at the HU University of Applied Sciences Utrecht as a Cloud Engineer on Azure Governance & Automation.

Professional Scrum Master I (PSM I)

Earned my Professional Scrum Master I (PSM I) certification from Scrum.org. This is a certification that shows that I have a good understanding of Scrum and can apply it in a team and as a Scrum Master if needed.